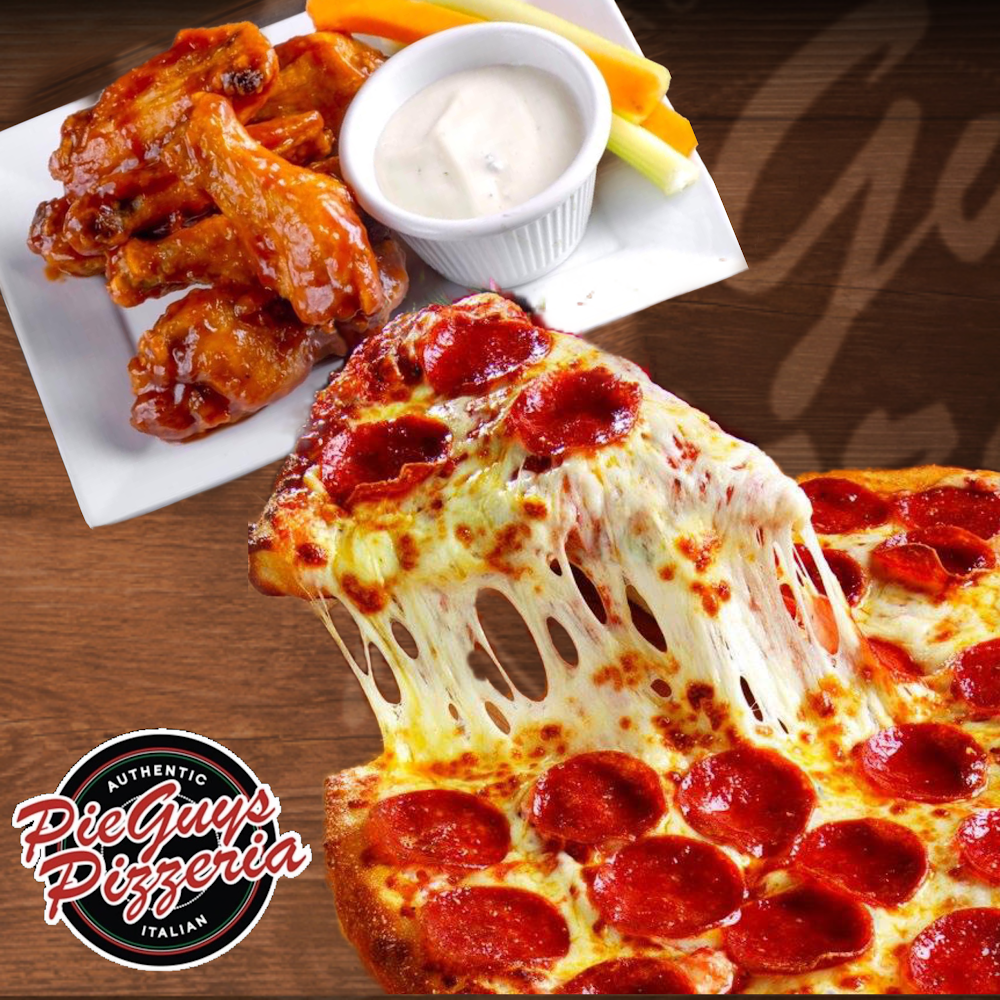 ---
8 Slice Pie 3 Toppings and Wings
1lbs of jumbo wings + veggies
& blue cheese
for $23.99+tax
Save $2.75
Add More Wings - Only $9.00 per lb*
12 Slice Pie 3 Toppings and WIngs
2lbs of jumbo wings + veggies
& blue cheese
for $36.99+tax
Save $3.45
*Add More Wings - Only $9.00 per lb*
24 Slice Pie 3 Toppings and Wings
5lbs of jumbo wings + veggies
& blue cheese
for $64.99+tax
Save $13.00
*Add More Wings - Only $9.00 per lb*
Add 4 Cans of Pop
for $3.99+tax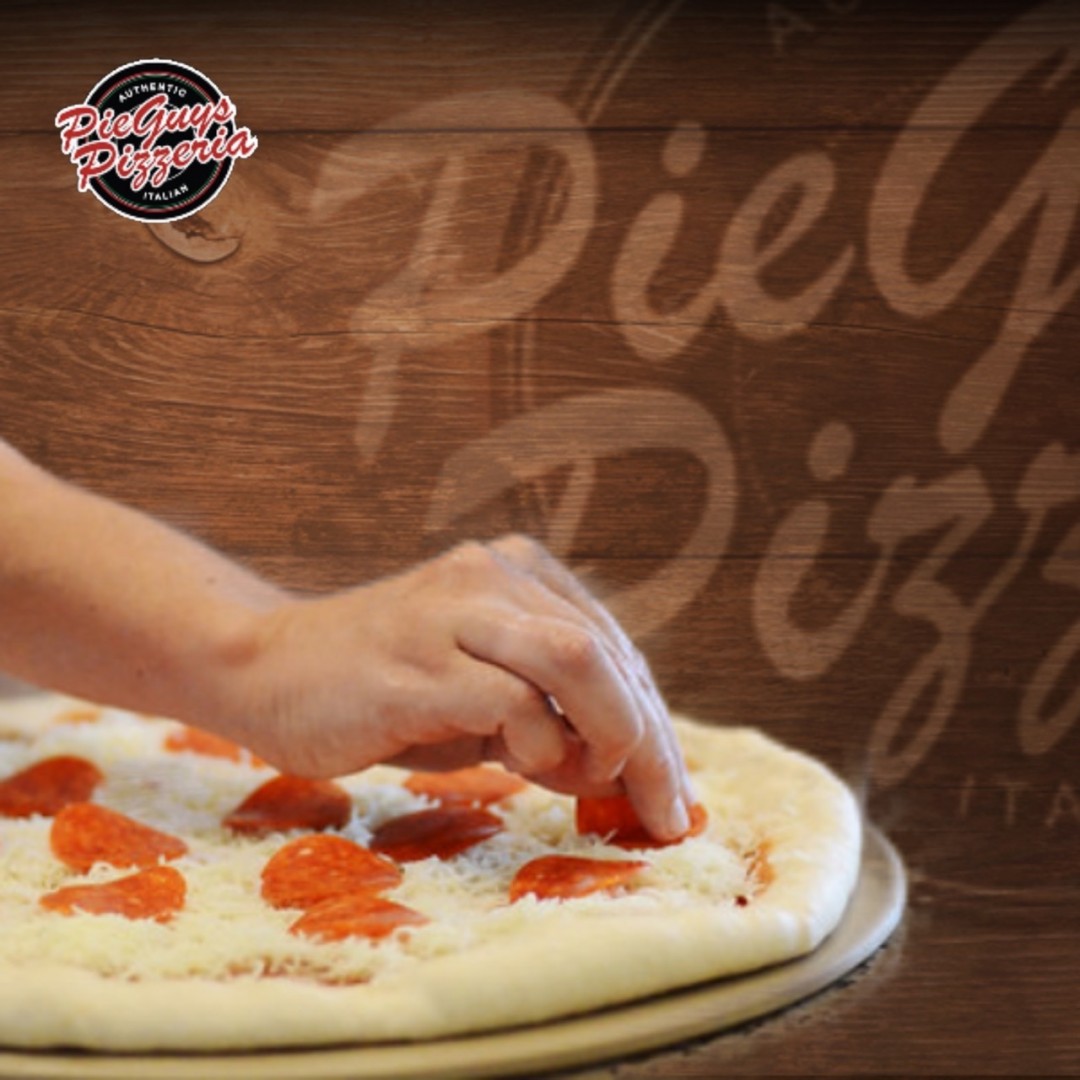 ---
Design Your Own Pie (D.Y.O.P)
Make any 8 Slice Pie Gluten Free or Challenge Friendly for $5
Pie Guys Pizza Slice
4 Slice
8 Slice
12 Slice
24 Slice
Sauce & Cheese
$5.75
$10.50
$12.95
$18.00
Regular Each Topping
$1.25
$1.75
$2.50
$4.00
---
Meat & Additional Cheese
Asiago Cheese
Extra Mozzarella
Bacon
Asiago Cheese
Chicken Breast
Ground Beef
Anchovies
Feta
Pepperoni
Italian Sausage
Ham
Salami
Capicolla
Hot Calabrese Salami
Cup & Char Pepperoni
Veggies & Other Stuff
Mushrooms
Green Peppers
Green / Black Olives
Roasted Red Peppers
Sundried Tomatoes
Crushed Garlic
Jalapeno Peppers
Red Onions
Hot Peppers
Kalamata Olives
Fresh Sliced Tomatoes
Pineapple
Artichoke Hearts
Broccoli
---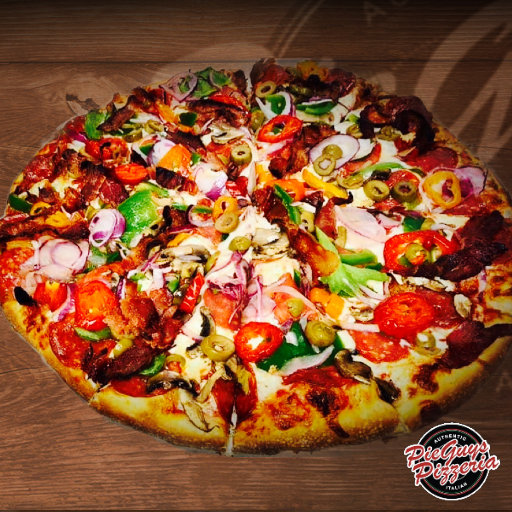 Pie Guys Specialty Pies
*no substitutions or add ons
Greek Pizza Pie
Handmade white pizza with fresh garlic and olive oil base topped with mozzarella, chicken breast, sun dried tomatoes, red onion, feta cheese and kalamata olives.
8 Slice $18.95 12 Slice $24.95
Steak Pizza Pie
Grilled rib eye steak with sautéed mushrooms, onions and green peppers. Topped with mozzarella cheese and special Pie Guys BBQ sauce.
8 Slice $21.95 12 Slice $26.95
The Italian Stallion
A spicy favourite with Pie Guys homemade tomato sauce, mozzarella cheese, spicy pepperoni, hot Italian sausage, hot Capicolla and hot peppers.
8 $17.00 Slice 12 Slice $22.50
Mexican Pizza Pie
Seasoned ground beef, mozzarella cheese and cheddar cheese, jalapeño peppers, tomato slices and onions.
8 Slice $18.95 12 Slice $24.95
BBQ Chicken Pizza Pie
Grilled chicken breast with sautéed mushrooms, onions and green peppers, mozzarella cheese and special Pie Guys BBQ sauce.
8 Slice $21.95 12 Slice $26.95
Pizza Pie with "The Works"
Homemade Pie Guys tomato sauce with blend of mozzarella cheese topped with pepperoni, fresh mushrooms, green peppers, onions, green olives, hot peppers and bacon.
4 Slice $12.50 8 Slice $20.95 12 Slice $27.95 24 Slice $39.95
Mediterranean Pizza Pie
Roasted red peppers, tomatoes, onions and feta cheese
8 Slice $17.00 12 Slice $22.50
---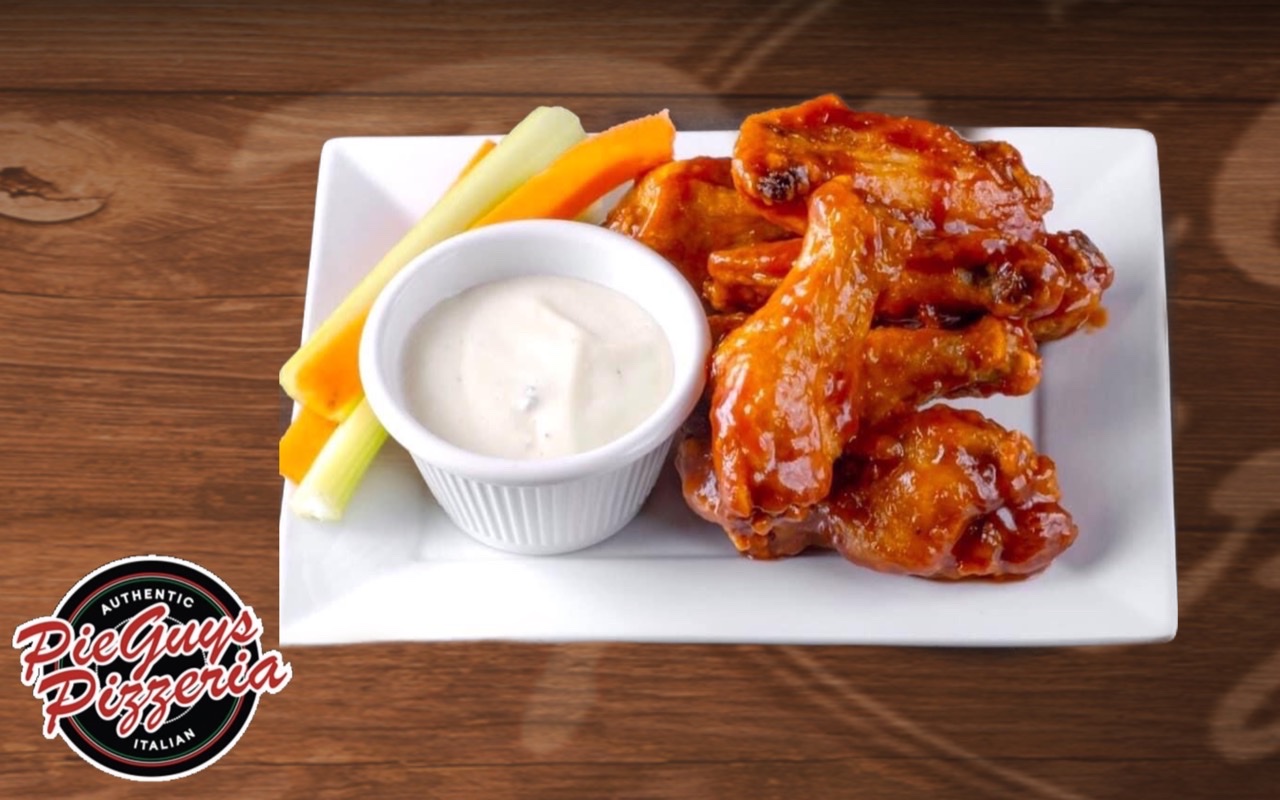 BBQ Wings
Buffalo Wings
Mild
Medium
Hot
Extra Hot
Other Flavors
Honey Garlic
Cajun
Sweet Chili
Served with celery, carrots and blue cheese.
Extra veggies and blue cheese(Add $3.00)
$11.99
1 lb
$21.99
2 lbs
$31.99
3 lbs
$40.99
4 lbs
$49.99
5 lbs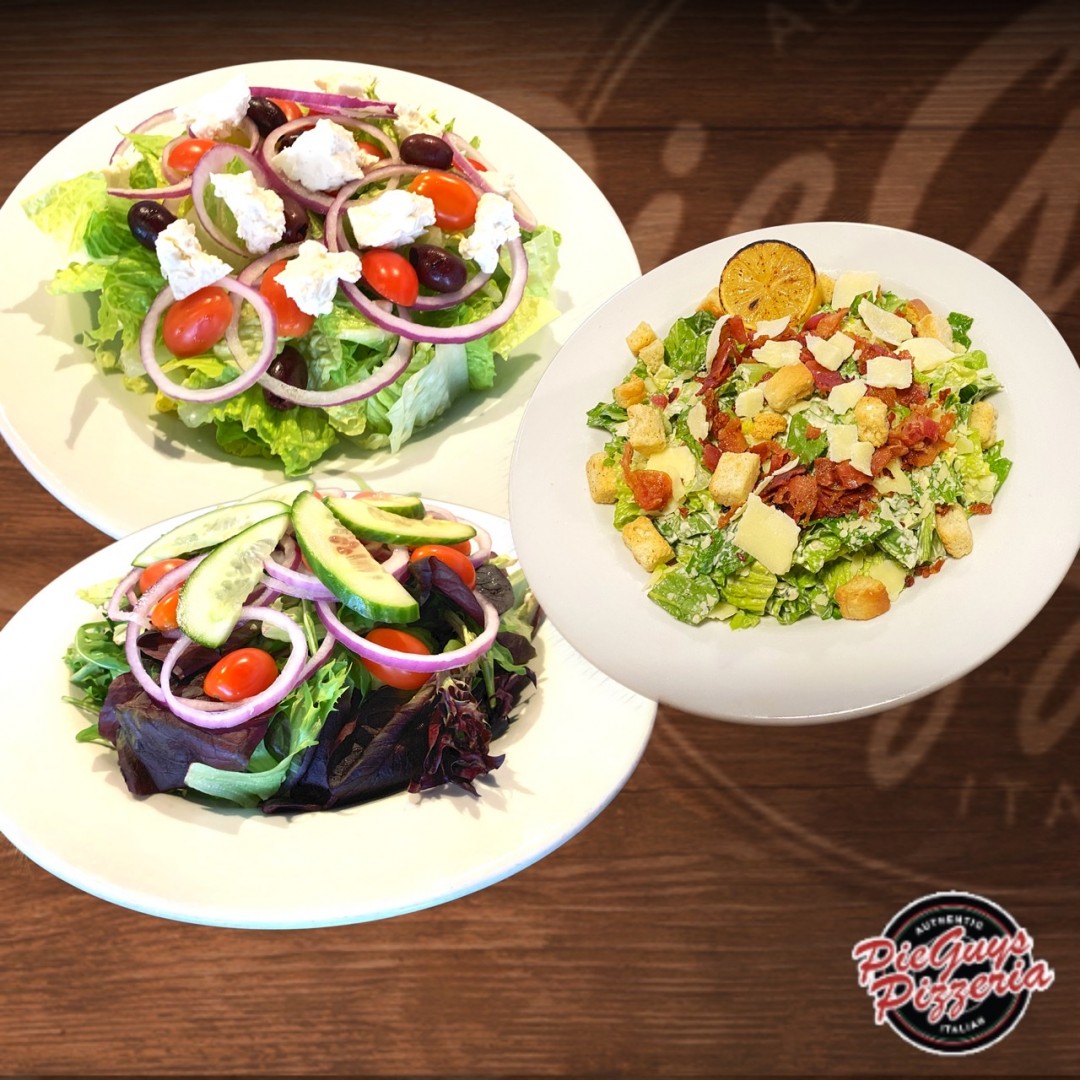 ---
Ultra fresh salads that are big enough to share!
$10.99
Caesar Salad
Romaine lettuce, real bacon, parmesan cheese, croutons with caesar dressing.
$10.99
Greek Salad
Lettuce, red onions, grape tomatoes, feta cheese, kalamata olives, with our homemade vinaigrette dressing.
$11.95
Cranberry Pecan Salad
Baby Green, feta cheese, dried cranberries, pecans with homemade sweet onion vinaigrette dressing.
$4.99
Add grilled chicken breast to any salad
Pie Guys
Subs & Sandwiches
---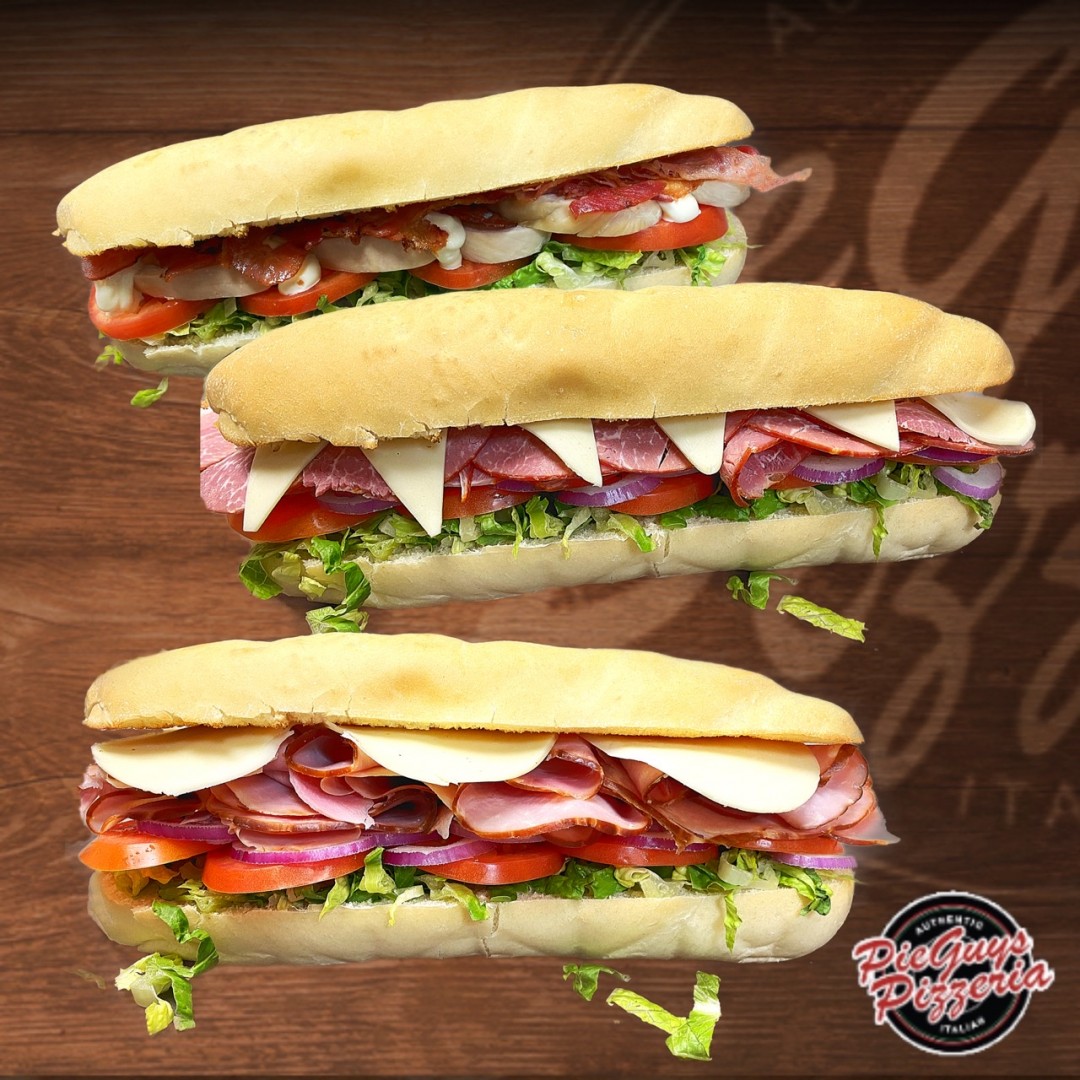 Pie Guys "Regular Guy" Sub
Our foot long subs are topped with cheese, lettuce, tomato, and our delicious sub sauce
$10.95
Hot Calabrese Salami
Warm and Toasty Italian Subs
Our foot long Italian subs are topped with Pie Guys homemade sauce, Parmesan and mozzarella
Grilled Subs and Sandwiches
Our toasted, foot long, grilled subs are topped with sauteed mushrooms, onions, and green peppers with melted provolone or mozzarella cheese
6oz $12.99 12oz $16.95
Rib Eye Steak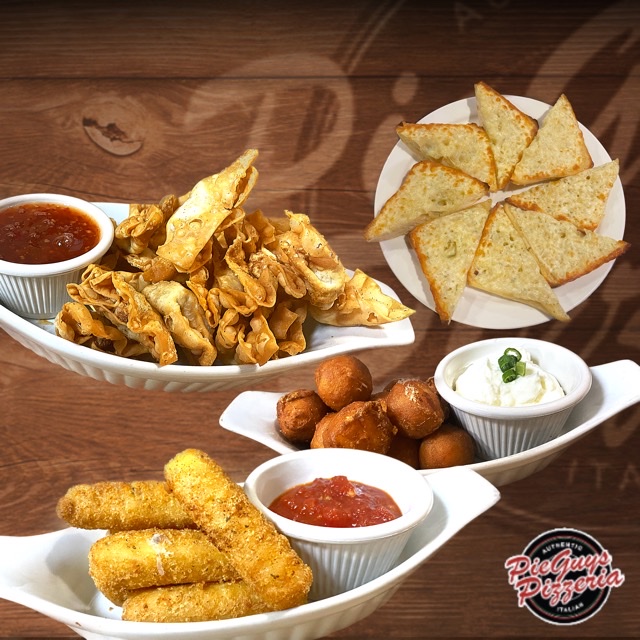 ---
$7.59
Garlic Bread With Cheese
(add bacon $2.50)
$9.99
Mozzarella Sticks
With homemade marinara sauce for dipping
$12.99
Chicken Fingers
Served with fresh cut fries and plum sauce.
---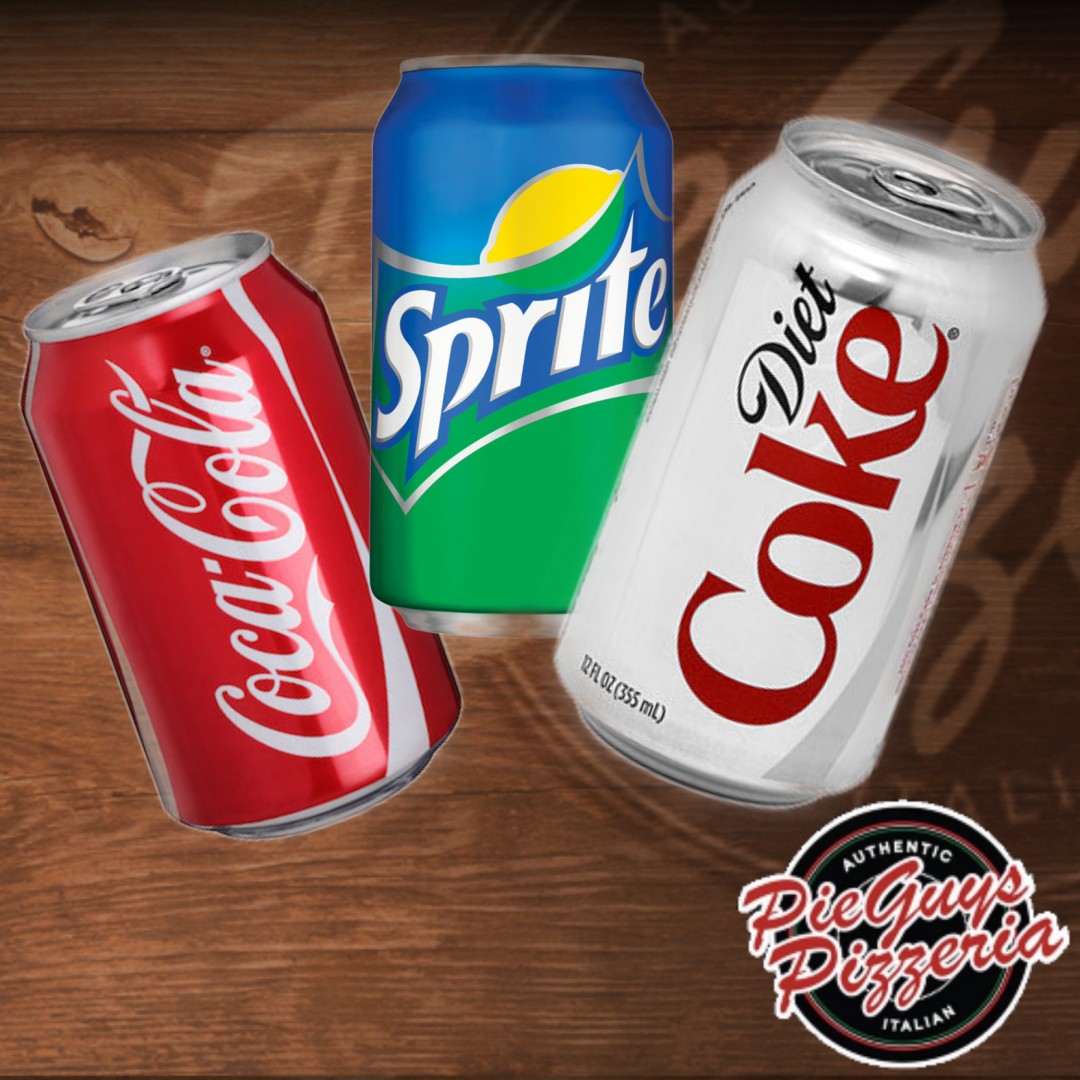 Bottled Water $1.50